Many different terms, including ram EDM, cavity EDM, volume EDM, and conventional EDM, refer to sinker EDM. Spark erosion is used in sinker EDM, a subtractive manufacturing technique, to create extremely precise parts. Spark erosion is the hollowing out of metal workpieces using an electrode-shaped tool. The electrode sinks into the raw material, giving sinker EDM its name. Machines that operate horizontally or at any other angle are also a possibility. Read More…
Sinker EDM
Sinker EDM, which goes by many names including conventional EDM, plunge EDM and ram EDM, produces parts by eroding materials in the path of the EDM tool using electrical discharges, or sparks that can generate heat anywhere from eight to twenty thousand degrees.
The workpiece-electrode (workpiece) and the tool-electrode (electrode) are steadily brought together until they practically touch. The nearest workpiece material is subsequently melted away by a high-voltage spark (EDM pulses) between the electrode and the workpiece, allowing the electrode to carve out the required shape in the workpiece. It works well for creating blind voids in conductive metals.
How Does Sinker EDM Work?
The electrodes are typically manufactured from diverse materials that will match certain metals and alloys inside the material. The material is immersed in oil, preventing debris from sticking to the surface. The base metal will have been eroded, exhibiting a specific design like an engraving once the procedure is finished and all extra pieces have been removed.
Both the electrode and the source material can be positively or negatively charged. Electric sparks fly between the two every time the electrode approaches the component. The temperature created by this spark can increase locally to between 8,000 and 12,000° C. The electrode's metal vaporizes locally due to the high temperature. The metal electrode is eroded as the other electrode descends into the component. Any conductive material can be subjected to the sinker EDM technique; the substance's hardness is irrelevant.
Types of EDM Electrode Materials
Depending on the application's requirements, alloys have qualities that offer various advantages. For example, material for an electrode should be able to:
Transfer the electric pulses to the surface of the workpiece for efficient spark erosion and minimal electrode erosion.
Be adopted for techniques like casting and machining.
Maintain an excellent surface finish when machining and resist tool wear (electrodes with a good surface finish create items with a better surface finish in EDM).
Ensure a high metal removal rate.
Copper is a typical base material due to its strength and good conductivity. It is helpful in applications requiring a fine finish or the EDM machining of tungsten carbide.
Copper tungsten materials are tungsten and copper composites. When flushing is difficult, copper tungsten helps create deep grooves. It is also good for tungsten carbide EDM machining.
Graphite at low speeds gives a cleaning action.
Silver tungsten material is a silver matrix that contains tungsten carbide particles. High electrical conductivity is provided by silver, and excellent erosion resistance and good anti-welding properties are provided by tungsten in high-power applications. Consequently, this composite is ideal for EDM electrode applications where maximizing conductivity is important.
Brass is made up of zinc and copper. The material for sinker EDM has the advantage of being simpler to process and having brass that can be die- cast to provide certain electrodes.
Tellurium copper is beneficial for applications demanding a fine finish in EDM machining. Tellurium copper is more easily machined than copper, and its machinability is comparable to brass.
Molybdenum has strong tensile strength and good electrical conductivity, making it perfect for demanding applications that call for small-diameter wire. Molybdenum EDM wires are utilized for applications demanding exponentially small radii and small slot work.
Applications of Sinker EDM
Applications of sinker EDM include:
Mold making
Sharp inside corners
Rapid Tooling
Dies
Injection molding molds
Blind cavities
Threads
Internal splines
Fine details
Deep and thin ribs
Blind keyways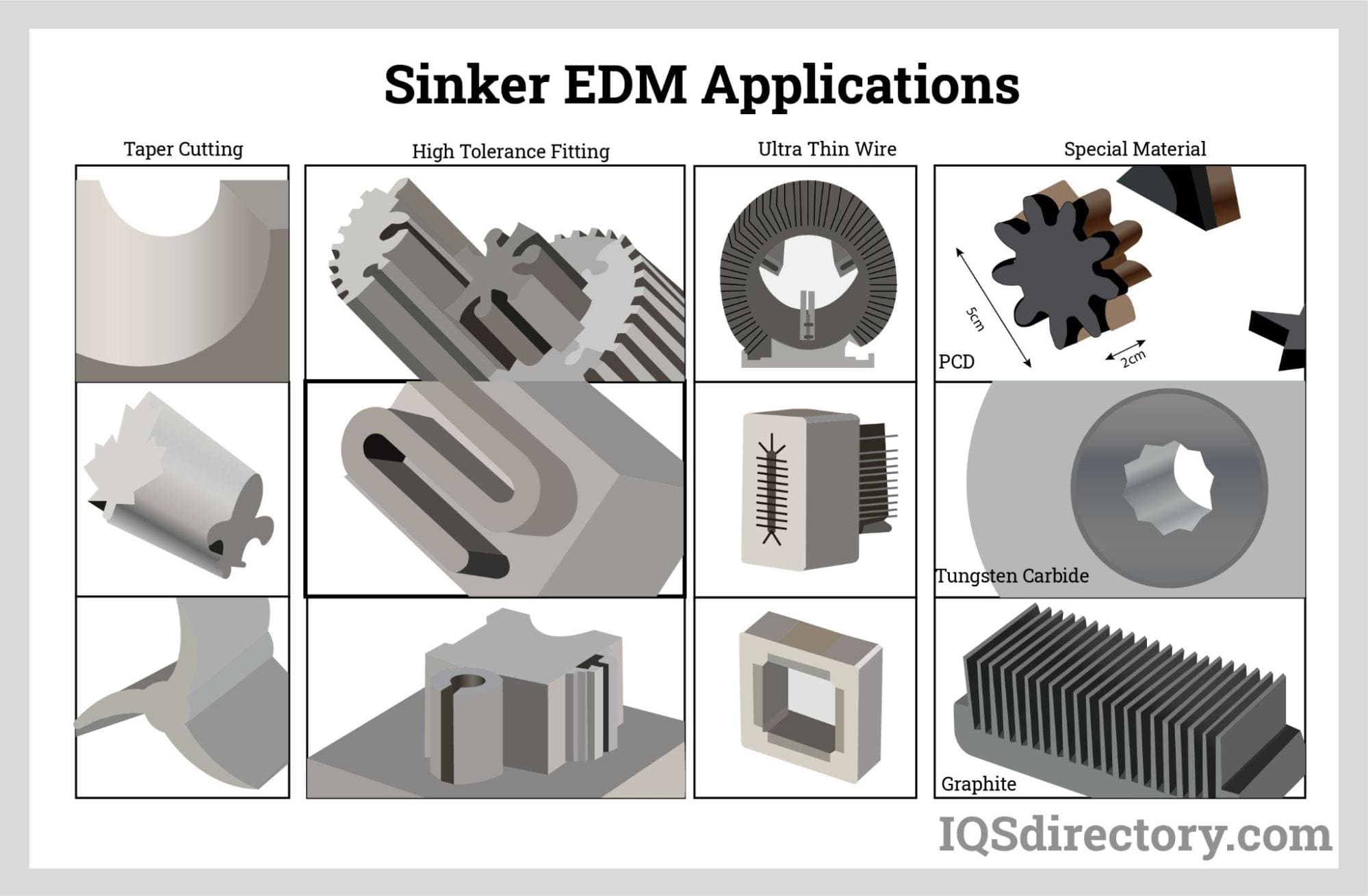 Advantages of Sinker EDM
Some key advantages of sinker EDM are listed below:
Accurate: If the electrode is accurately machined, sinker EDM can produce features with extremely high accuracy.
Blind Cavities: Blind holes with unusual forms, such as hexagonal holes, can be produced via sinker EDM.
Simple Tooling: Sinker EDM does not need a tougher tool than the machined material, unlike other machining techniques. Sinker EDM can be used to manufacture conductive metals.
Disadvantages of Sinker EDM
The disadvantages of sinker EDM are listed below:
Slow: Comparing the sinker EDM technique to other machining methods like CNC milling, relatively little material is removed.
High Operating Costs: Sinker EDM machines require excessive electricity since they use a high-energy form of spark erosion.
Limited to Conductive Material: Plastics and composites cannot be machined by sinker EDM machines since they can only work with conductive materials.
Choosing the Proper Sinker EDM Business
For the most beneficial outcome when selecting a sinker EDM company, it is important to compare several businesses using our directory of sinker EDM companies. Each sinker EDM company has a business profile page illustrating their areas of experience and capabilities, and a contact form to directly communicate with the business for more information or request a quote. Review each sinker EDM company website using our patented website previewer to get an idea of what each business specializes in. Then, use our simple RFQ form to contact multiple sinker EDM companies with the same form.